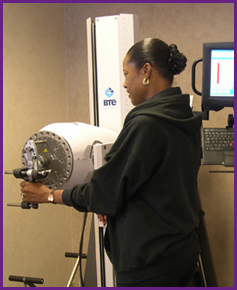 At Midwest Hand Care, our experienced professionals utilize state-of-the-art techniques and equipment to provide exceptional care to our patients. Our specialized therapists perform thorough evaluations in order to assess our clients' individual needs.
Assessments include:
Range of motion
Strength
Sensation
Dexterity
Activities of daily living
Edema
Soft Tissue Integrity
Wound Status
Work Assessment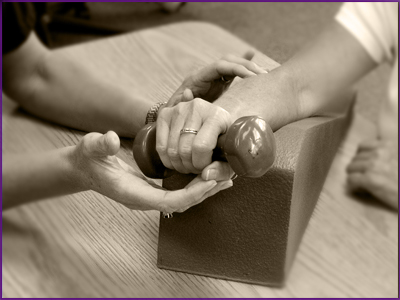 After a thorough evaluation is completed and our clients needs are assessed, we will develop a customized treatment plan to meet our clients individual needs and specific treatment goals. A written home exercise program is developed and reviewed and modified on a consistent basis to assure maximal functional recovery.
Treatments include:
Wound and Scar Management
Edema Control
Pain Management
Sensory Re-education
Graded Exercise for Range of Motion
Strengthening and Endurance Exercises
Dexterity Training
Activities of Daily Living Education
Joint Protection Principles
Work Simulation
Custom Static and Dynamic Splinting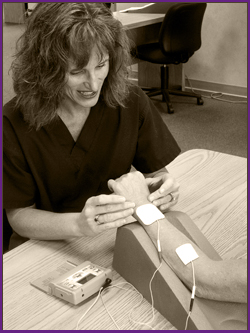 Techniques (Modalities) Used to Augment Treatment
Therapeutic heat and cold:
Ultrasound, hot/cold packs, contrast baths, Whirlpool, Fluidotherapy
Manual Therapy:
joint mobilization, scar mobilization, soft tissue massage, prolonged passive stretches to soft tissue
Electrophysiological Techniques:
Iontophoresis, TENS, NMES (Neuromuscular Electrical Stimulation), Galvanic Stimulation, Biofeedback
Specialized Educational Programs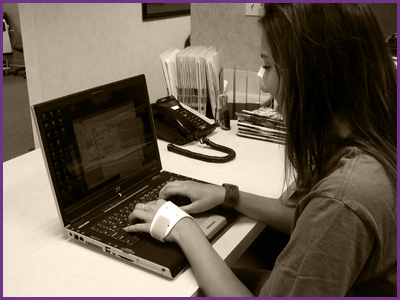 Often trauma results in specific upper extremity muscle imbalance involving weakness of the intrinsic hand muscles (small specialized hand muscles). This results in weakness and diminished fine motor coordination. Weakness of the hand/wrist muscles can also result in overuse of more proximal shoulder/neck musculature, resulting in pain syndromes. Specific strengthening of proximal stabilizing musculature (scapula/shoulder) assist with correcting imbalance and diminishing pain. Modification of work stations, tool modification, postural correction and adaptation of daily living tasks to decrease excessive stress is incorporated into the treatment program.
Specific Programs Offered:
Tendinitis (Lateral/Medial Epicondylitis)
Carpal Tunnel Syndrome
Cubital Tunnel Syndrome
DeQuervain's Tendinitis
Rheumatoid Athritis
CMC Arthritis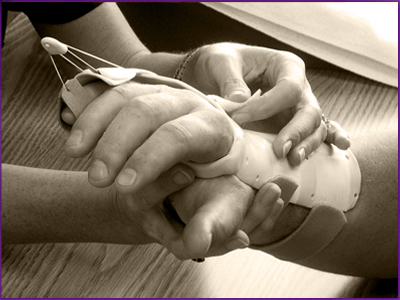 Rehabilitation Reduces Disability
Rehabilitation is based on early graded mobilization and exercise. We encourage family members and patients to actively participate in the rehabilitation process. Our goal is to assist out patients in reaching their greatest potential for return to normal daily activities and return to work as quickly as possible.
Custom Splinting
We specialize and take pride in our high level of expertise in custom splinting. Custom splinting plays a major role in the rehabilitation process. Custom static splints are fabricated during the acute stage to immobilize, protect surgically repaired structures and facilitate edema reduction. Custom dynamic splints are fabricated to stretch joints/soft tissue and gain range of motion. Without use of various splinting techniques, gains in passive motion made during a therapy session are often not maintained and are rapidly lost once the patient leaves therapy. Splinting provides the patient with the ability to carry through with their passive stretching program at home.
Patient Education
Education is the hand therapist's greatest tools. It is well published that every year thousands of workers suffer injury from repetitive trauma to soft tissues. However, a large percent of the population also suffer from repetitive syndromes that are related to daily household activities and vocational tasks. Nerve irritation may develop in response to repetitive gripping of handles/tools, prolonged static postures maintained during activities like driving and repetitive activities such as keyboarding. The elderly population may develop nerve or tendon irritation (tendonitis) from repetitive use of canes/walkers. The hand therapist can provide education in regarding ergonomically correct postures to reduce stress, which can significantly diminish symptoms. Custom night splinting can also be utilized to assist with reduction of stress.